In typical Elon Musk fashion, the billionaire entrepreneur surprised the Twitterverse by renaming the social media platform simply to "X".
But that's not all – he went one step further by changing his location on his official Twitter account to 'Ð', sparking speculation and wild rumours in the crypto community.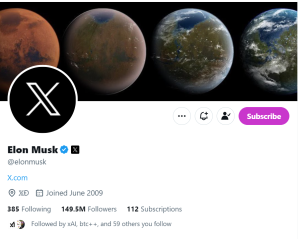 Twitter users went into a crazy immediately, speculating on what this move mean for the future of the platform and for the cryptocurrency world. Musk, known for his love of playful antics, dropped a big hint that he might have plans to integrate payment methods directly into the app, allowing seamless transactions between users.
Dogecoin Reacts on Elon Musk's Plans
The crypto market was quick to react to Musk's message, and one coin saw an immediate impact: Dogecoin. The meme-inspired cryptocurrency, which Musk has been a vocal supporter of $DOGE in the past, and it experienced a sudden spike in the price as enthusiasts believed that the Ð in Musk's location stood for Dogecoin.
At the time of writing, $DOGE already pumped 5% increase in value. It's not the first time that Musk's moving the crypto market with his tweets and public statements.
Dogecoin or Ethereum?
The debate over the true meaning of the Ð symbol didn't take long to surface either. Crypto Twitter erupted with discussions as enthusiasts argued whether the Ð represented Dogecoin or Eth. Interestingly, the Ð symbol has historical significance and a dual identity. In Old English, it was used as a symbol for Eth, an abbreviation of Ethereum, another popular cryptocurrency with a strong presence in the market.
People argued that Musk's choice of Ð hinted at the integration of Ethereum, the majority of crypto twitter seemed more convinced that it will be Dogecoin. Given Musk's previous affection for the meme-inspired cryptocurrency and his tendency to create buzz around it, the Dogecoin theory carried more weight.
However, Musk has yet to clarify his intentions, leaving everyone waiting for the next clue or surprise move.
Our headquarters tonight pic.twitter.com/GO6yY8R7fO

— Elon Musk (@elonmusk) July 24, 2023
With the recent rebranding of Twitter to 'X' and Elon Musk's cryptic change of location, speculation about integrating payment methods into the app has the crypto community abuzz. The rise in the price of Dogecoin and the debate over the meaning of the Ð symbol have only added fuel to the fire. We may not have all the answers yet, but one thing is certain: Elon Musk's influence continues to reach far beyond the realms of technology and business, and with every move he makes, the world watches eagerly, wondering what he has in store for us next.